Enrollment is now open for the 2023-2024 school year!
Register now as some options have limited spaces available!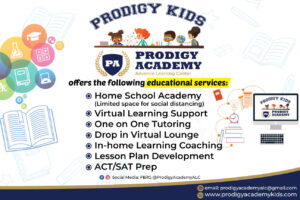 REGISTER TODAY!
RE-ENROLL TODAY!
 APPLICATION PROCESS
SUBMIT APPLICATION
Complete the application,  submit with supporting documentation, and application fee of $75.00.
Incomplete applications will not be accepted.
FINANCIAL AID APPLICATION
Families who are unable to meet their financial obligation may apply for financial aid.
UPON ACCEPTANCE
Read, sign, and return the enrollment contract and all required documents.
Stay up to date with all the activities by subscribing to emails, text messages, Facebook, and Instagram.
WELCOME TO PRODIGY ACADEMY!